ETC Simulation Delivers Advanced Wildland Fire Scenarios to the Netherlands Institute for Safety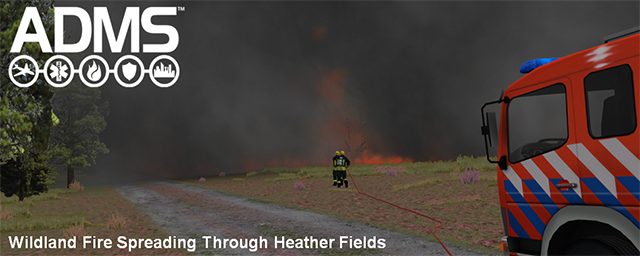 Southampton, Pa., USA, February 25, 2015 – Environmental Tectonics Corporation's (OTC Pink: ETCC) ("ETC" or the "Company") Simulation Division, located in Orlando, Fla., has delivered to the Netherlands Institute for Safety ("IFV"), new wildland fire simulation scenarios including four different types of vegetation. The forest fire training scenarios are an expansion to their existing Advanced Disaster Management Simulator ("ADMS™").

The simulation features tested vegetation burn rates calculated using existing fuel models that have been researched and validated by IFV including comparisons of test burns and naturally occurring wildfires. The fire spread characteristics are also affected by varying wind speed and direction. The vegetation zones feature deciduous forests, pine forests, heather fields, and an area of mixed vegetation.

In addition to the new wildland fire capabilities, new objects have been added to the SmartModel™ Library to add complexity within training exercises and provide responders with additional tools to mitigate a forest fire. The new objects include various houses that can be placed in the path of a fire or in neighboring areas, burned trees and vegetation, as well as plowed terrain fire break paths to control ground fires. Responders will also be able to call for aerial firefighting support by helicopters using water buckets to combat these fires.

"Over the past few years we have seen how the fuel models can be used to train firefighters for wildfires in the Netherlands as well as exercising other agencies in their wildfire response." said Elly Praasterink, Advisor with IFV. "By integrating the fuel model into the ADMS simulation, we can create real-time virtual scenarios to train any responder in handling the elements of a wildfire."

IFV is a national center of expertise with four Academies including the Fire Academy, Academy for Crisis Management, Emergency Medical Service Academy, and Academy for Leadership. With over 30 ADMS training systems, IFV has trained thousands of emergency management and response teams since 2001.
---

Forward-looking Statements
This news release contains forward-looking statements, which are based on management's expectations and are subject to uncertainties and changes in circumstances. Words and expressions reflecting something other than historical fact are intended to identify forward-looking statements, and these statements may include terminology such as "may", "will", "should", "expect", "plan", "anticipate", "believe", "estimate", "future", "predict", "potential", "intend", or "continue", and similar expressions. We base our forward-looking statements on our current expectations and projections about future events or future financial performance. Our forward-looking statements are subject to known and unknown risks, uncertainties and assumptions about ETC and its subsidiaries that may cause actual results to be materially different from any future results implied by these forward-looking statements. We caution you not to place undue reliance on these forward-looking statements.
Latest News
June 29, 2023
ETC Awarded $17.3 Million Contract for its Sterilization Systems Group
Read More