ETC Simulation Delivers ADMS-Airbase SE Training System to the United States Air Force Joint Base Elmendorf-Richardson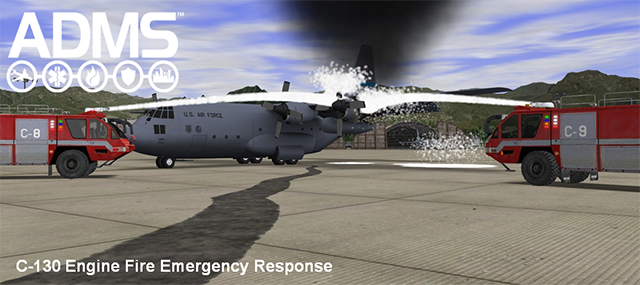 SOUTHAMPTON, PA, USA, November 30, 2015 – Environmental Tectonics Corporation's (OTC Pink: ETCC) ("ETC" or the "Company") Simulation Division ("ETC Simulation"), located in Orlando, Fla., has delivered to the United States Air Force an Advanced Disaster Management Simulator ("ADMS") through a contract with the Adayana Government Group. The ADMS-Airbase system will be used to train Air Force emergency response personnel.

The installed ADMS-Airbase system will be located at the Joint Base Elmendorf-Richardson ("JBER") in Anchorage, Alaska where the networked simulators will be located approximately 10 miles apart on the base. Personnel at each location will be able to train simultaneously within the same exercise. The ADMS system will feature one instructor station and three student stations providing emergency responders at JBER a variety of incidents and threats specific to a military base including plane crashes, dormitory collapses, active shooters and structure fires to train for. All the scenarios feature ETC's Signature Simulation Technology and SmartModel(TM) library, which enhances exercise flexibility by allowing unlimited and rapid scenario generating capabilities.

"We are proud that the United States Air Force has again chosen our simulation to meet the training needs at JBER," said Christine Stephenson, Chief Operating Officer of ETC Simulation. "The diversity of scenarios and potential training objectives available with ADMS provides the military response team with the best virtual training tool possible to prepare for any incident."

ADMS-Airbase features a full military base with hangars, runways, nearby residential housing and a hospital. The ADMS-Airbase simulation is also used by the United States Air Force DoD Fire Academy at Goodfellow Air Force Base, Ramstein Air Force Base in Germany and the Royal Netherlands Air Force.
---

Forward-looking Statements
This news release contains forward-looking statements, which are based on management's expectations and are subject to uncertainties and changes in circumstances. Words and expressions reflecting something other than historical fact are intended to identify forward-looking statements, and these statements may include terminology such as "may", "will", "should", "expect", "plan", "anticipate", "believe", "estimate", "future", "predict", "potential", "intend", or "continue", and similar expressions. We base our forward-looking statements on our current expectations and projections about future events or future financial performance. Our forward-looking statements are subject to known and unknown risks, uncertainties and assumptions about ETC and its subsidiaries that may cause actual results to be materially different from any future results implied by these forward-looking statements. We caution you not to place undue reliance on these forward-looking statements.
Latest News
June 29, 2023
ETC Awarded $17.3 Million Contract for its Sterilization Systems Group
Read More