ETC Simulation Awarded Contract to Deliver ADMS Training System to the Jordan Civil Defense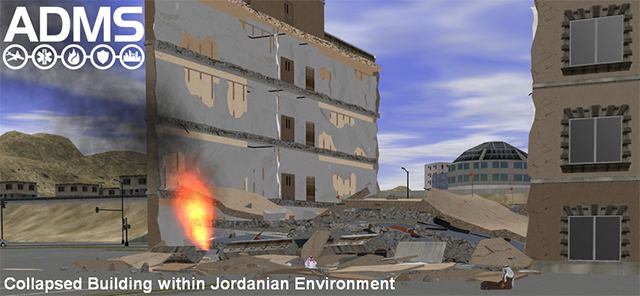 SOUTHAMPTON, PA, USA, September 16, 2014 – Environmental Tectonics Corporation's (OTC Pink: ETCC) ("ETC" or the "Company") Simulation Division ("ETC Simulation"), located in Orlando, FL, has been awarded a contract to deliver an Advanced Disaster Management Simulator (ADMS) training system to the Jordan General Directorate of Civil Defense ("GDCD").

The installed training system will be located at the Civil Defense Academy and used to train staff in critical decision making for Emergency Response and Disaster Management. Among the many natural and/or man-made disaster scenarios that can be trained for in the GDCD system are earthquakes, floods, storm damage, structural fires and collapses, aircraft incidents, forest fires, mass casualty triaging, industrial fires, and CBRNE emergencies.

The customized ADMS system will include integrated maps of Jordan, a high fidelity Jordanian city environment, and localized simulated vehicles with crews to enhance the situation awareness and logistics of training. This localization is required to train Jordanian disaster management plans and standard operating procedures. The After Action Review tool will include voice recording capabilities for use during the playback of training communications during an exercise replay. The GDCD system will be delivered with both an Arabic and English User Interface.

An ADMS-Fire Hose Trainer, the augmented reality firefighting training simulator, will also be delivered to provide firefighters with an effective training system for tactical firefighting and ventilation techniques. The fire hose trainer can be connected as a module to the ADMS system.
---

Forward-looking Statements
This news release contains forward-looking statements, which are based on management's expectations and are subject to uncertainties and changes in circumstances. Words and expressions reflecting something other than historical fact are intended to identify forward-looking statements, and these statements may include terminology such as "may", "will", "should", "expect", "plan", "anticipate", "believe", "estimate", "future", "predict", "potential", "intend", or "continue", and similar expressions. We base our forward-looking statements on our current expectations and projections about future events or future financial performance. Our forward-looking statements are subject to known and unknown risks, uncertainties and assumptions about ETC and its subsidiaries that may cause actual results to be materially different from any future results implied by these forward-looking statements. We caution you not to place undue reliance on these forward-looking statements.
Latest News
June 29, 2023
ETC Awarded $17.3 Million Contract for its Sterilization Systems Group
Read More