ETC Selected to Provide Spatial Disorientation Trainer to Colombian Air Force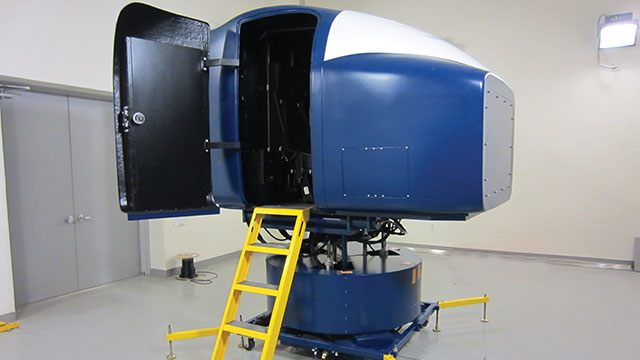 SOUTHAMPTON, PA, USA, March 14, 2014 – Aircrew Training Systems ("ATS"), a division of Environmental Tectonics Corporation (OTC Pink: ETCC) ("ETC" or the "Company"), announced today that it was selected by the U.S. Army Contracting Command to provide the Colombian Air Force ("FAC") with a spatial disorientation flight simulator following a competitive bidding process. The GYRO IPT II (Integrated Physiological Trainer) will help FAC pilots to recognize in-flight conditions that contribute to spatial disorientation and how to fly to a successful resolution. The new system will be installed at the FAC Aerospace Medicine Center (CEMAE) in Bogotá, Colombia next spring.

ETC's GYRO IPT II provides pilots with a hands-on realistic, full motion, spatial disorientation flight training experience. While in control of a simulated flight, the pilot can be exposed to a variety of selected disorienting illusions. Unlike simple disorientation demonstrators, a pilot in the GYRO IPT II has full closed loop control of the simulation before, during and after the illusion. This capability creates a fully interactive flight training environment where the pilot must maintain control of the simulator and fly through the illusion to a successful resolution during training.

"Spatial disorientation remains a major cause of aircraft accidents," said Alper Kus, Vice President of ATS. "We are pleased to provide the Colombian Air Force with a training solution that will significantly enhance pilot safety and lead to tremendous cost savings in the near future."

The new GYRO IPT II will complement the suite of training devices already operating at CEMAE. The facility is also home to an Altitude Chamber, Night Vision Training System and Vestibular Illusion Demonstrator, all previously provided by ETC.
---

Forward-looking Statements
This news release contains forward-looking statements, which are based on management's expectations and are subject to uncertainties and changes in circumstances. Words and expressions reflecting something other than historical fact are intended to identify forward-looking statements, and these statements may include terminology such as "may", "will", "should", "expect", "plan", "anticipate", "believe", "estimate", "future", "predict", "potential", "intend", or "continue", and similar expressions. We base our forward-looking statements on our current expectations and projections about future events or future financial performance. Our forward-looking statements are subject to known and unknown risks, uncertainties and assumptions about ETC and its subsidiaries that may cause actual results to be materially different from any future results implied by these forward-looking statements. We caution you not to place undue reliance on these forward-looking statements.
Latest News
June 29, 2023
ETC Awarded $17.3 Million Contract for its Sterilization Systems Group
Read More