ETC Hyperbaric Chambers Receives Eight Additional Contracts During the Fiscal 2017 First Quarter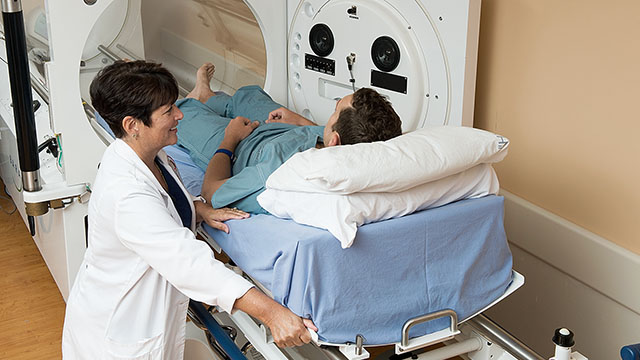 SOUTHAMPTON, PA, USA, June 15, 2016 – ETC Hyperbaric Chambers (formerly ETC BioMedical Systems), a division of Environmental Tectonics Corporation (OTC Pink: ETCC) ("ETC" or the "Company") today announced that it has received eight additional contracts, both domestically and internationally, during the fiscal 2017 first quarter totaling approximately $1.7 million.

Jamal Radford, Business Unit Manager for ETC Hyperbaric Chambers, states, "A number of dynamics are driving this sales increase: customers and industry professionals have embraced ETC`s computer technology and advanced features like never before; aging equipment, both ETC's and that of our competitors, is being replaced; and our international distribution channel has been strengthened."

ETC's BARA-MED chambers, supplied by ETC Hyperbaric Chambers, include BARA-PRESS™ and SMOOTH RIDE™. BARA-PRESS is the software than can control, as well as record, the treatment, allowing the operator to monitor the patient more easily, consistently, and accurately. SMOOTH RIDE is a pressure-change technology that enhances patient comfort by reducing the incidence of barotrauma by sixty-seven percent, ensuring more patients complete all their treatment sessions. The BARA-MED Select also offers an undercarriage gurney storage area.
---

Forward-looking Statements
This news release contains forward-looking statements, which are based on management's expectations and are subject to uncertainties and changes in circumstances. Words and expressions reflecting something other than historical fact are intended to identify forward-looking statements, and these statements may include terminology such as "may", "will", "should", "expect", "plan", "anticipate", "believe", "estimate", "future", "predict", "potential", "intend", or "continue", and similar expressions. We base our forward-looking statements on our current expectations and projections about future events or future financial performance. Our forward-looking statements are subject to known and unknown risks, uncertainties and assumptions about ETC and its subsidiaries that may cause actual results to be materially different from any future results implied by these forward-looking statements. We caution you not to place undue reliance on these forward-looking statements.
Latest News
June 29, 2023
ETC Awarded $17.3 Million Contract for its Sterilization Systems Group
Read More