ETC's Test and Simulation Systems Group Receives Contract from Performance Car Race Team for CAS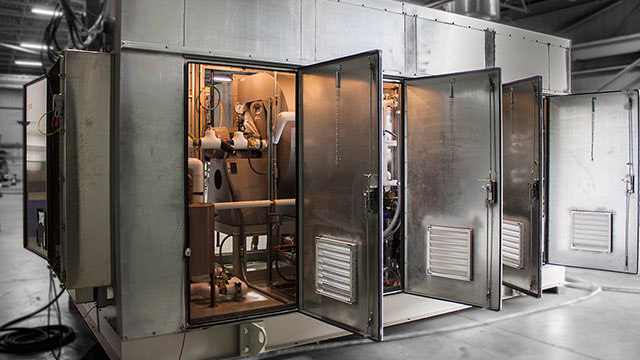 SOUTHAMPTON, PA, USA, August 28, 2015 – Environmental Tectonics Corporation`s (OTC Pink: ETCC) ("ETC" or the "Company") Test and Simulation Systems ("TSS") business unit announced today the award of a contract to supply a Conditioned Air Supply ("CAS") to be used for high altitude vehicle engine testing by a domestic race car team. The CAS will be used to test the performance of race car engines in high altitude environments.

The CAS provides simulated environmental conditions, including varied parameters for temperature, humidity, pressure and flow rate conditions, for the purpose of engine development and validation as well as fuels and lubricants testing. The CAS not only simulates generic environmental conditions but provides the ability to simulate extreme test environments as well. The use of the CAS offers the ability to repeat testing scenarios in a precisely controlled environment with the goal of increasing engine performance.

Theresa Wagner, TSS Sales & Marketing Manager states, "ETC is committed to providing our customers with quality test equipment to help them fulfill their goals of automotive excellence with a focus on increasing fuel efficiency, lowering emissions and maximizing dynamic performance. We are pleased that our client will once again partner with ETC to help fulfill this mission."

ETC has been designing and manufacturing Testing and Simulations Systems for the Automotive and HVAC industries since 1969. The test systems designed for the automotive industry include; environmentally controlled drive-in chambers, A/C systems test benches and calorimeters, component and full vehicle development wind tunnels, engine development systems, and automotive emissions testing systems.
---

Forward-looking Statements
This news release contains forward-looking statements, which are based on management's expectations and are subject to uncertainties and changes in circumstances. Words and expressions reflecting something other than historical fact are intended to identify forward-looking statements, and these statements may include terminology such as "may", "will", "should", "expect", "plan", "anticipate", "believe", "estimate", "future", "predict", "potential", "intend", or "continue", and similar expressions. We base our forward-looking statements on our current expectations and projections about future events or future financial performance. Our forward-looking statements are subject to known and unknown risks, uncertainties and assumptions about ETC and its subsidiaries that may cause actual results to be materially different from any future results implied by these forward-looking statements. We caution you not to place undue reliance on these forward-looking statements.
Latest News
June 29, 2023
ETC Awarded $17.3 Million Contract for its Sterilization Systems Group
Read More