ETC's Test and Simulation Systems Group Awarded Calorimeter Contract by a Compressor Manufacturer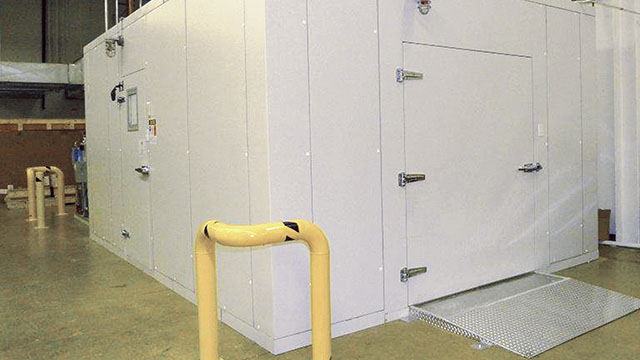 SOUTHAMPTON, PA, USA, June 5, 2015 – The Test and Simulation Systems ("TSS") Group (www.testingandsimulation.com) of Environmental Tectonics Corporation (OTC Pink: ETCC) ("ETC" or the "Company") (www.etcusa.com) announced today that it signed a contract with a leading residential reciprocating compressor manufacturer. This calorimeter will utilize high pressure/volatile refrigerants including R-32 (difluoromethane) and R-290 (propane). These refrigerants are currently being used in various countries around the world and will be entering the U.S. market within a few years.
The calorimeter will consist of a compressor chamber, chamber conditioning system, secondary refrigerant vessel, secondary refrigerant vessel chamber, support equipment, PLC controls, PC and data acquisition system.
A compressor calorimeter is used to measure thermal performance and energy efficiency of a refrigeration compressor. The calorimeter simulates various environmental and thermal loading conditions normally experienced during operation of a refrigeration compressor. Testing under simulated conditions allows the user to acquire compressor critical thermal performance data, in this case for compressors up to 75,000 BTU/hr in capacity.
We offer a facility that meets the standards of ASHRAE and ISO. The following standards are most applicable:
ASHRAE 23.1-2010 Methods of Testing for Rating the Performance of Positive Displacement Refrigerant Compressors and Condensing Units That Operate at Subcritical Temperatures
ASHRAE 41.1-2013 Standard Method of Temperature Measurement
ASHRAE 41.9-2011 Standard Calorimeter Test Method for Flow Measurement of Volatile Refrigerant
ISO 917 : 1989 Testing Of Refrigerant Compressors
"The award of this contract allows ETC to be among the first companies to provide test equipment for residential air conditioning system compressors using these refrigerants," said Greg Raab, Business Unit Manager of ETC`s TSS Group. "The industry expectation is that these environmentally friendly and highly efficient systems will be commonplace in the U.S. within the next 5-10 years".
---

Forward-looking Statements
This news release contains forward-looking statements, which are based on management's expectations and are subject to uncertainties and changes in circumstances. Words and expressions reflecting something other than historical fact are intended to identify forward-looking statements, and these statements may include terminology such as "may", "will", "should", "expect", "plan", "anticipate", "believe", "estimate", "future", "predict", "potential", "intend", or "continue", and similar expressions. We base our forward-looking statements on our current expectations and projections about future events or future financial performance. Our forward-looking statements are subject to known and unknown risks, uncertainties and assumptions about ETC and its subsidiaries that may cause actual results to be materially different from any future results implied by these forward-looking statements. We caution you not to place undue reliance on these forward-looking statements.
Latest News
June 29, 2023
ETC Awarded $17.3 Million Contract for its Sterilization Systems Group
Read More