ETC's Aircrew Training Systems Awarded Contract to Supply United States Air Force With Spatial Disorientation Flight Trainers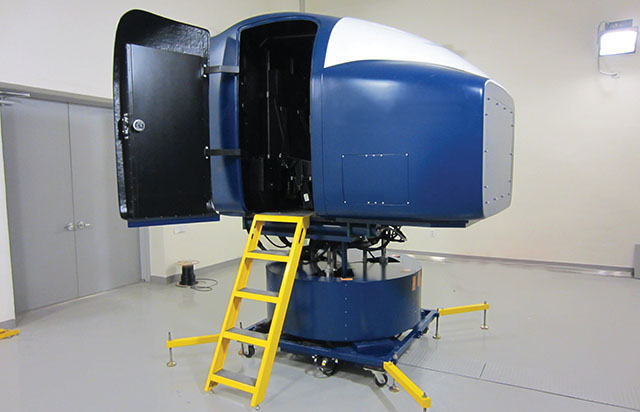 SOUTHAMPTON, PA, USA, April 16, 2014 – Aircrew Training Systems ("ATS"), a division of Environmental Tectonics Corporation (OTC Pink: ETCC) ("ETC" or the "Company"), announced today that it signed a contract with the Air Force Life Cycle Management Center ("AFLCMC") to provide up to four spatial disorientation flight simulators following a competitive bidding process. The AFLCMC selected ETC's GYRO IPT II (Integrated Physiological Trainer) to fulfill the requirements of their new Spatial Disorientation (SD) Training System Program. The GYRO IPT II will support the SD training requirements in the Air Education and Training Command Student Undergraduate Pilot Training syllabus. The system will expose undergraduate pilots and aircrew to typical vestibular and visual illusions found in aviation, enabling them to recognize, confirm, prevent and recover from SD. The four units are scheduled for delivery to Sheppard AFB TX, Laughlin AFB TX, Columbus AFB MS and Vance AFB OK, with installation expected to begin in the spring of 2015.

"We are thrilled to be selected as the contractor for such an important program," said Alper Kus, Vice President of ATS. "Spatial disorientation is still a major contributor to aircraft mishaps. This system will help pilots to better handle the effects of SD and ultimately lead to a safer flight environment for all aircrew."

ETC's GYRO IPT II provides pilots with a hands-on, realistic, full motion, spatial disorientation flight training experience. While in control of a simulated flight, the pilot can be exposed to a variety of selected disorienting illusions. Unlike simple disorientation demonstrators, a pilot in the GYRO IPT II has full closed loop control of the simulation before, during and after the illusion. This capability creates a fully interactive flight training environment where the pilot must maintain control of the simulator and fly through the illusion to a successful resolution during training.

This acquisition marks the fourth contract awarded to ETC by the USAF in the past five years.
During 2009 and 2010, ETC was also selected to provide its Authentic Tactical Fighting System (ATFS-400) and a suite of four Altitude Chambers to Wright-Patterson AFB OH. In 2012, ETC received an additional contract for an Altitude Chamber to be delivered to the Spanish Air Force via Foreign Military Sales (FMS).
---

Forward-looking Statements
This news release contains forward-looking statements, which are based on management's expectations and are subject to uncertainties and changes in circumstances. Words and expressions reflecting something other than historical fact are intended to identify forward-looking statements, and these statements may include terminology such as "may", "will", "should", "expect", "plan", "anticipate", "believe", "estimate", "future", "predict", "potential", "intend", or "continue", and similar expressions. We base our forward-looking statements on our current expectations and projections about future events or future financial performance. Our forward-looking statements are subject to known and unknown risks, uncertainties and assumptions about ETC and its subsidiaries that may cause actual results to be materially different from any future results implied by these forward-looking statements. We caution you not to place undue reliance on these forward-looking statements.
Latest News
June 29, 2023
ETC Awarded $17.3 Million Contract for its Sterilization Systems Group
Read More