ETC Simulation Contracted by St. Johns University to Deliver ADMS Training Systems for Homeland Security Program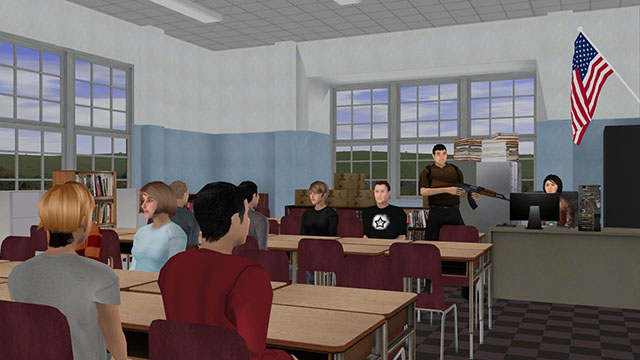 Southampton, Pa., USA, June 8, 2017 – Environmental Tectonics Corporation's ("ETC" or the "Company") Simulation business unit, located in Orlando, FL, has been awarded a contract from St. John's University (SJU) for the delivery and support of an Advanced Disaster Management Simulator (ADMS™) training suite.

The ADMS-Command virtual reality training systems will be delivered to SJU in Queens, NY, and integrated in their Homeland Security curriculum. The addition of the simulator will bridge the gap between academic studies and real-world experience, and allow students to practice what they have learned in a safe and controlled environment. A variety of scenarios can be exercised, including an active shooter on campus, HAZMAT and CBRNe situations, medical emergencies and natural disasters. The system features ETC's Signature Simulation Technology including the new Scene Builder, which allows the user to import custom sounds, images, and videos into the simulation, providing more flexibility with scenario generation.

The Homeland Security Program at St. John's University focuses on the protection of the nation's critical infrastructure and populace from terrorism, criminal acts, and natural disasters. "I am extremely pleased at the integration of this innovative simulation technology into our curriculum", Dr. Katia Passerini, PhD, PMP, and Dean of the College of Professional Studies at St. John's University, stated. "This will help us prepare our students in both the theory and application of homeland security, emergency management, and communication and coordination principles, strategies, and tactics."

"We not only envision the ADMS system as a practical tool to be integrated into our foundational curriculum, we can also see research and other high impact applications as added value on our investment", added Prof. Jeffrey P. Grossmann, JD, tenured faculty in the Homeland Security Program and Simulation Laboratory Project Lead.

About ADMS
ADMS™ is a high-fidelity Virtual Reality Simulation Training Platform that comprises multiple products including Incident Command training from technical to strategic level (ADMS-Command), emergency response and force protection specific to a military environment (ADMS-Airbase), firefighting techniques and tactics (ADMS-Fire), driver training and vehicle operation (ADMS-ARFF and ADMS-Drive) and police operations, crowd management and riot control (ADMS-Police). ETC's signature True Simulation Technology blends physics-based simulation, embedded artificial intelligence, accurate animations, photo-realistic graphics, ambient sounds, vehicle controls, and motion platforms to totally immerse trainees in the exercise. ADMS enables first responders and emergency managers to prepare at all levels of response in a safe, economical and environmentally-conscious way.

About ETC Simulation
ETC Simulation, located in Orlando, FL, specializes in virtual reality emergency response and disaster management training systems. Their hallmark product, ADMS(TM), is a proven tool for training emergency management personnel at all levels, with more than one million successful training hours completed globally.
---

Forward-looking Statements
This news release contains forward-looking statements, which are based on management's expectations and are subject to uncertainties and changes in circumstances. Words and expressions reflecting something other than historical fact are intended to identify forward-looking statements, and these statements may include terminology such as "may", "will", "should", "expect", "plan", "anticipate", "believe", "estimate", "future", "predict", "potential", "intend", or "continue", and similar expressions. We base our forward-looking statements on our current expectations and projections about future events or future financial performance. Our forward-looking statements are subject to known and unknown risks, uncertainties and assumptions about ETC and its subsidiaries that may cause actual results to be materially different from any future results implied by these forward-looking statements. We caution you not to place undue reliance on these forward-looking statements.
Latest News
June 29, 2023
ETC Awarded $17.3 Million Contract for its Sterilization Systems Group
Read More