ETC Simulation Contracted by Concordia University to Expand ADMS Training System with Utilities Capabilities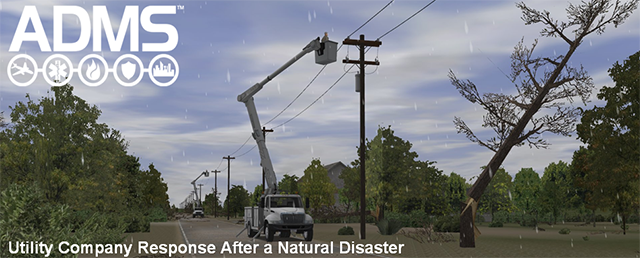 SOUTHAMPTON, PA, USA, August 27, 2015 – Environmental Tectonics Corporation`s (OTC Pink: ETCC) ("ETC" or the "Company") Simulation Division ("ETC Simulation"), located in Orlando, Fla., has announced the signing of a contract with Concordia University Portland to expand their Advanced Disaster Management Simulator ("ADMS") training suite to include additional capabilities to support the training of utility companies in emergency management.
The partnership between Concordia University and the Western Energy Institute, in cooperation with Portland General Electric will be the first of its kind designed to provide emergency management training and education specifically for utility companies. With ADMS, multiple utilities agencies work simultaneously to ensure that critical infrastructures remain online during a time of crisis. Their training can include incident management, coordinating communications, sharing of resources and testing standard operating procedures in a time of crisis.
Concordia`s Homeland Security Simulation Center, includes an on-scene Incident Command room with a 180-degree immersion theater screen, four Field Unit positions and an Emergency Operations Center ("EOC") room which makes up the largest ADMS training suite in the United States. During an emergency simulation, the command team will receive real-time logistics information, on-scene visuals and 2D mapping along with any information related to the event. The expansion to their ADMS training suite will include the addition of utilities vehicles and personnel.
"The introduction of training capabilities for utility companies and their emergency management planning is another milestone for ADMS." said Lori Bozenbury, Director of Business Development at ETC Simulation. "We have over 20 years of experience in providing virtual reality training to the emergency response community and are now integrating that with critical infrastructure systems. Utility companies will have access to a variety of scenarios to exercise incident command and test their operating procedures in order to provide the proper response in a time of crisis."
---

Forward-looking Statements
This news release contains forward-looking statements, which are based on management's expectations and are subject to uncertainties and changes in circumstances. Words and expressions reflecting something other than historical fact are intended to identify forward-looking statements, and these statements may include terminology such as "may", "will", "should", "expect", "plan", "anticipate", "believe", "estimate", "future", "predict", "potential", "intend", or "continue", and similar expressions. We base our forward-looking statements on our current expectations and projections about future events or future financial performance. Our forward-looking statements are subject to known and unknown risks, uncertainties and assumptions about ETC and its subsidiaries that may cause actual results to be materially different from any future results implied by these forward-looking statements. We caution you not to place undue reliance on these forward-looking statements.
Latest News
June 29, 2023
ETC Awarded $17.3 Million Contract for its Sterilization Systems Group
Read More