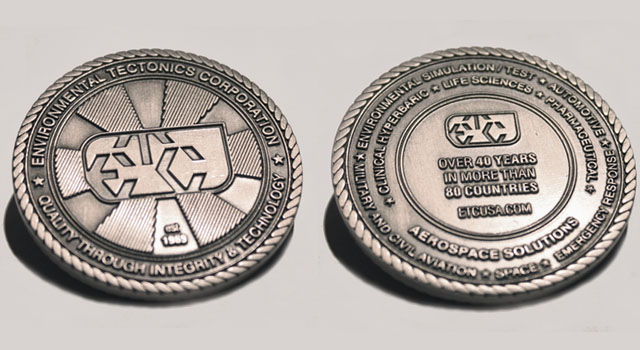 A challenge coin is a small coin bearing an organization's insignia or emblem and carried by organization members. They are presented by unit commanders in recognition of special achievement, or exchanged in recognition of visits to an organization. Challenge coins are normally given to the recipient during a handshake, passing from right hand of the giver to the right hand of the awardee.

Challenge Coin Origin
Dates back to the second world war and first used by Office of Strategic Service Personnel, specifically the oldest Special Forces Unit in the US, and was used as "Bona Fides" during a personal meeting to help verify a person's identity. The challenge coin soon spread to non-military organizations, as well as the United States Congress, which produces coins for members of Congress to give to constituents.

The popularity of challenge coins stretch past the Military. NASCAR, the NFL, Eagle Scouts and the World Series of Poker all have their own challenge coins. They are also popular with Police Departments, Fire Departments and Fraternal Organizations.

What the ETC Challenge Coin Means to the Recipient
The ETC Challenge Coin is an exclusive symbol reserved for only the most trusted colleagues of high level ETC Corporate officers . ETC Challenge Coins are formal invitations into the ETC Family and are synonymous with trust and a long-lasting friendship.
ETC CORPORATE
125 James Way
Southampton, PA 18966
215-355-9100

info@etcusa.com